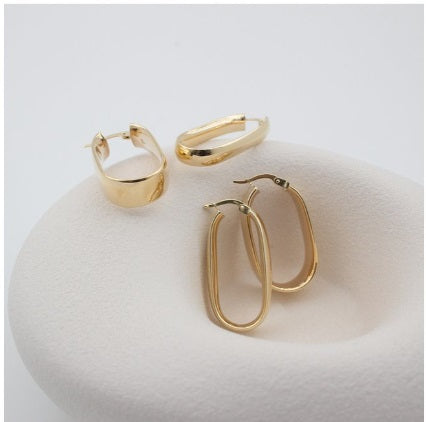 Made from durable 10K gold, these hoops provide a classic yet stylish look. A thickness of 2.39mm ensures that the earrings remain elegant without being too light. A width of 8.15mm and length of 29.04mm make for an eye-catching accessory that is sure to turn heads. With an inner diameter of 13.79mm x 24.17mm, and a weight of 3.95g, you will look stunning while wearing these timeless hoops.
---
Please See our Return Policy
Free shipping on orders over $150
About us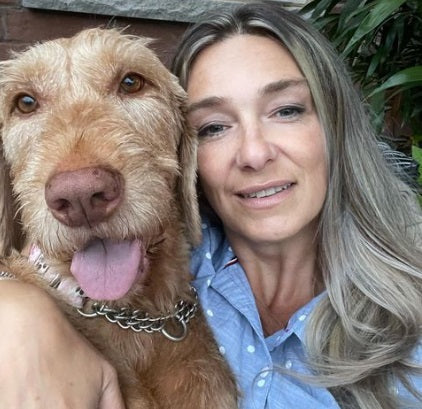 Just a Girl & Her Dog
This is us, a girl with a passion for quality jewelry, and the love for her dog Tess, together it all became Tessories. A Wirehaire Vizsla & a Dream.
Natural & Lab Diamonds
We know that Diamonds are special, and we want to help everyone with their dream Diamond. This is why we provide our customers with both options. Let us help you with some sparkle.
Creating your Own Style
The world is your Oyster! We provide our clients the freedom to have their own creations come to life, We walk you through the process from start to finish. We have partnered with the best jewelers, they are meticulous and every detail is captured in their workmanship.  Resulting in beautiful finished jewelry and happy clients.
Shipping
Shipping
We will ship your order within 2-7 Business days. (Exeptions with Custom & Personalized items) Delivery times are subjected to extend during peak times & deliveries may take longer to arrive.
Order tracking
You will be sent a tracking number for your order by email. This way you can track it every step of the way, until it arrives.
Our Inspection
ALL product orders are inspected prior to being shipped out to our clients this ensures that every piece is in perfect condition, we check all clasps, and bails making sure that they are pristine. This provides peace of mind and your order will be ready to wear as soon as you receive it.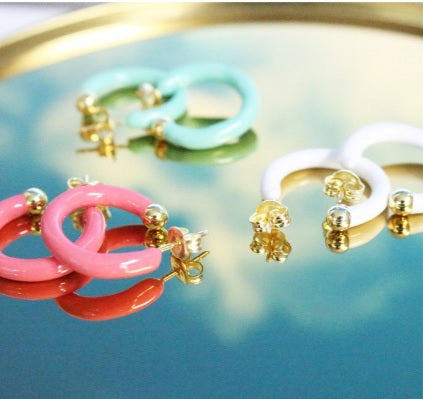 Introducing
Sterling Gold Vermeil
Sterling Silver Gold Vermeil Necklace, So Dainty. Bracelets are also availablein a Double Strand Beaded Enamel Bracelet
Introducing
Sterling Gold Vermeil
Sterling Silver Gold Vermeil Enamel Hoops, great spring and summer colors.